On Friday, June 14 at Aspen Farms Horse Trials, we were excited to catch up with Julie Garella Williams, owner of Ice Horse. Ice Horse is a long-time sponsor of Aspen Farms Horse Trials (AFHT); well known to competitors for their convenient and effective products and for their sponsorship of the Ice Horse finish line on Aspen's cross-country courses.
Tell us a little about Ice Horse.
I've owned Ice Horse since 2012. We make cold therapy products for horses, and we focus on products that work.
All of our products are made in the United States. The wraps themselves are made out of a fabric called Quadraspan that stretches 360 degrees and breathes. Unlike products that are made of Neoprene and hold heat in, ours are designed to let heat escape.
Our ice packs are a patented cold capsule technology; they stay cold for over 2 hours. It's long enough to give a good therapeutic cold.

We develop our products with veterinarians. That is where we get feedback on what's working. We work for example with vets like Dr. Chris Kawcak at Colorado State, Dr. Orsini who is a thought leader in the field of laminitis, and Dr. Mark Revenaugh.
Is there an Ice Horse product or products you think might be of particular interest to eventers?
I think within the eventing community there are three main Ice Horse products they tend to use.

One is our Hoof Ice Boots because a lot of horses come up footsore after a long cross country run, particularly in the summer when the ground is getting harder and harder. The Hoof Ice Boots are also handy if a horse loses a shoe or bruises a sole, etc.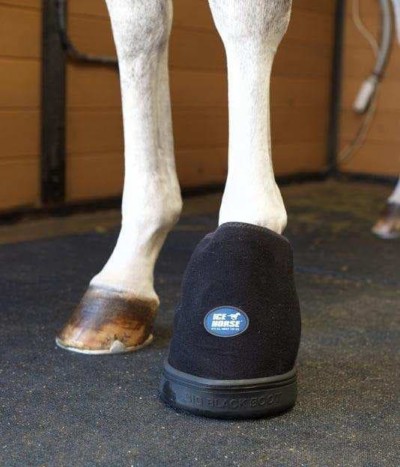 Our Tendon Wraps are also very popular with eventers. People can easily put them on after cross-country for the walk back to the barn.
The Suspensory Wraps people tend to use post-cool down when they are icing in the evening. These give you coverage all the way from the knee to coronary band and they can be used on the front and hind legs.
Unlike other products that are out there, we're really about trying to develop products that treat the horse effectively. No two horses are the same, and no single product is a silver bullet. You need to know your horse and know where he needs some therapy; we have a range of products to meet these needs.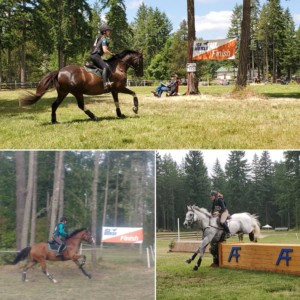 Tell us about your decision to support Aspen Farms Horse Trials and three day eventing.
We've been involved as a sponsor at Aspen Farms Horse Trials since I started with the company in 2012. We have grown our sponsorship as Aspen Farms has grown.
We want to support the three day eventing community because we make products that are easy to use, and in the eventing world most riders are taking care of their own horses. It's a great fit.
You are entered this weekend with your horse Just Benny; is this your first time riding at Aspen Farms Horse Trials as competitor?
Yes! I've been in the hunter jumper world for 30 years, I hadn't evented since I was a teenager in Pony Club, and I just bought my first event horse.

I went fox hunting in Ireland this past October; it was a bucket list trip. I went with my oldest friend. That was it! I got totally hooked again. I came home and I wanted a Connemara. I found a great little half Connemara, half Hanoverian gelding; 4 coming 5 years old. Woodside in California was our first horse trials together. This weekend is our second event. I'm super excited.
The course is beautiful here. It's like my own little Rolex! It's just beautiful.
Is there anything else you'd like eventers to know about Ice Horse?
Try us; you'll like us. Call us, talk to us, we're always here to help. We try to get back to people within 24 hours. Every day, all day we're talking to people about managing their horse's leg care. And we're horse people just like you. We pride ourselves on great customer service and a quality product that works.
Learn more about Ice Horse:
www.icehorse.net
800 786 6633
info@icehorse.net
And take a look at Ice Horse's Q&A Video with Team Ice Horse rider and 5* eventer, Lauren Kieffer: