We met up with Diane Snow, owner of Gallops Saddlery which is a long-standing show sponsor, before she prepared for her show jumping ride as a competitor at the June Aspen Farms Horse Trials.
Tell us a little about Gallops Saddlery. When did it start?
Gallops Saddlery started in November of 1992. We're in our 28th year in the Portland area. We're right off I5 – a good location for people passing through.
We've grown over the years. We started with about 1,200 square feet and now we're about 3,500 square feet, and we wish we had more!
We've always been all English. We serve the eventing community, and we are popular with hunter jumper riders, and have been attracting more and more dressage riders as well. Many eventers will know us from our booth at the shows.
Why do you think eventers like to shop with Gallops Saddlery?
I think eventers know they can come to us and get Flair strips, they can get Nupafeed, get their penny holders; they can get all the things they need for an event. Not every store carries the unique products that eventers want. I think we have a reputation for having what eventers want.
Why did Gallops Saddlery start sponsoring Aspen Farms Horse Trials?
Why not! Why wouldn't you? It's a gorgeous event. It's well run. Jonathan and Suzy know what they are doing. I think that's why it's such a great event – they've done it all, and they don't hold back. They do it right. So of course we're going to sponsor; it fits.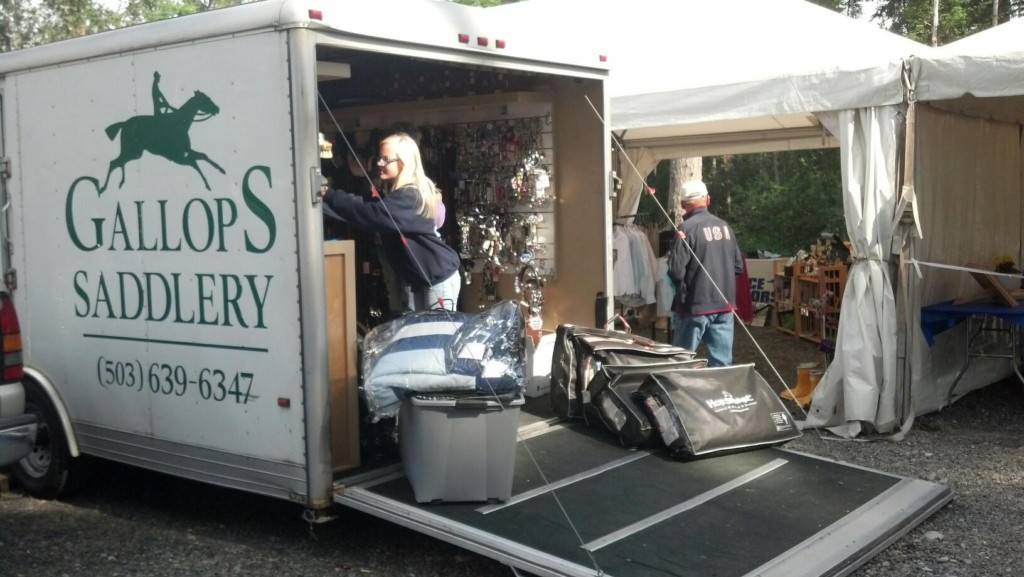 What do you want the event community to know about the business?
If people want Gallops Saddlery to keep staying around and coming to shows, keep shopping with us. We ship daily; we match prices.
Tack stores around the U.S. are closing right and left. It's due to the "Amazon mentality" – but if you want to try on a helmet and have it fitted correctly, or get custom boots, you've got to support your Mom and Pop stores. We're lucky in that we're pretty strong, but there are many stores that are having a hard time.

You're also riding in the horse trials this weekend. Tell us about that.
I'm 62. I've been eventing since I was in Pony Club, age 13. I have an off the track Thoroughbred gelding. For about 5 years, I didn't compete because my daughter rode competitively – she rode at Rolex – so I spent my time doing that.
I got my horse off the track 4 years ago, and it was kind of hard being fifty-something and getting back into it. But it is in my blood. It does come back to you. I feel like I'm lucky to be able to do it at 62. I'm going to keep going as long as I can, and I'm happy to be competing here!
Be sure to stop at Gallops Saddlery the next time you are in the Portland area; it is worth a visit!
Gallops Saddlery
17937 SW McEwan Rd
Tigard, OR 97224
You can also shop from them online at www.gallopssaddlery.com. Or meet up with Gallops Saddlery again at Rebecca Farms Three Day Event in July.