We spoke with Dougie Hannum about two long-time sponsors of Aspen Farms Horse Trials: Nupafeed Superior Supplements and APF Pro.
Dougie is an equine therapist who promotes equine healing and optimal performance from the inside out. He has worked with elite equine athletes throughout the United States and beyond, and he has been involved with equestrian sport for decades. His resume includes serving as Team Manager for Olympic and World Equestrian Game teams, grooming for Olympic teams, showing, coaching, and more. He also owns two event horses ridden by John Michael Durr.

Nupafeed
Nupafeed started over a decade ago providing supplements for performance horses. Their Magnesium supplement is especially popular among eventers at all levels, as it is safe to use at shows and can help horses relieve muscle tension and ease nervousness.

Dougie: It has been one of the most amazing therapy products that I've worked with in my therapy business. It allows the horses' backs to stay relaxed – and that is the biggest part about dressage especially. The Nupafeed Magnesium makes a huge difference.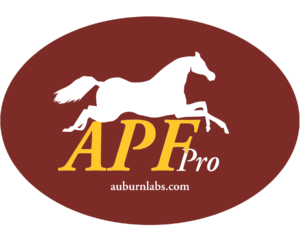 APF Pro
APF Pro by Auburn Laboratories Inc is a competition-legal natural herbal formula that promotes advanced muscle-building and delivers gastric health benefits. APF Pro is backed by university-level research, and it is used by eventers and other equestrians to protect horses against stress and support peak performance.

Dougie: APF Pro is an immune system booster. If your horse's immune system isn't working and you're feeding other supplements, they won't be working. I've seen so many horses blossom once they get on the APF product. It helps build muscles… Increases stamina. I use [the people version of the product] on myself, for over 20 years. It works.
It's a product you should have your horses on for the whole summer – straight through the competition season. It helps the horses ship so much better and supports their immune system during stressful times. I can't say enough good things about the product – it's been around the world with me.
Why Aspen Farms Horse Trials?
Dougie: I met Suzy before Jonathan, when Suzy was competing on the team. I worked on her horse. Then they got married and bought this property. I used to travel from California to Vancouver B.C., and this place was a stop. I saw this place be built. The first time I saw it, it was just logging trails and woods. Now people ask me if it's a golf course! It's the the most beautiful show – and the hospitality here – they take care of us. Nupafeed and APF Pro have sponsored this show for years.
You can connect with Dougie at (610) 656-9890 or follow the Doug Hannum Equine Therapy Facebook page.
To learn more or place an order, visit: