FOR IMMEDIATE RELEASE
Twenty-five competitors completed dressage in the CIC2* Friday morning at Aspen Farms Horse Trials (AFHT) in Yelm, WA. Young Rider Sophie Click secured the overnight lead with her liver chestnut Irish Sporthorse gelding, Fernhill Rising, on a score of 31.
Stephanie Cooper and her Thoroughbred gelding, Sketchy Past, are second on 32.7 trailed closely by Marissa Nielsen and her Hanovarian mare, Vinetta M, on 32.9.
Out of 26 CIC1* starters, Jordan Linstedt claimed the top spot overnight aboard Staccato, a 9 year old Hanoverian gelding owned by Janine Jaro. Midday the weather turned from fair to rainy, and Jordan and Staccato delivered a solid performance despite rain showers throughout their test. Jordan is also third in the division aboard Peter Parker, a 9 year old Westphalian gelding owned by Kiran D'Souza.
Young Rider Harper Click and Rubia, an Oldenburg mare owned by Amy Click, are in second place in the CIC1* on 26. Rubia won AFHT's CIC1* last year piloted by Sara Sellmer, who is competing in the same division this year aboard two other horses.
The FEI competitors will take on Tremaine Cooper's show jumping course beginning at 3:30 p.m. on Saturday.
Sarah Matuszewski and Saint Ignatius are currently first in the Open Intermediate on 32.4. Karen O'Neal is first and second overnight in Open Preliminary aboard Linda Weeks' gelding Hooligan and her own Shanroe Santos, respectively. In Prelim Rider, Lauren Benge sits in first with Admire James on 29.4. Jordan Crabo and Over Easy and Morgan Swaan and Far Cry are tied for second on 29.6.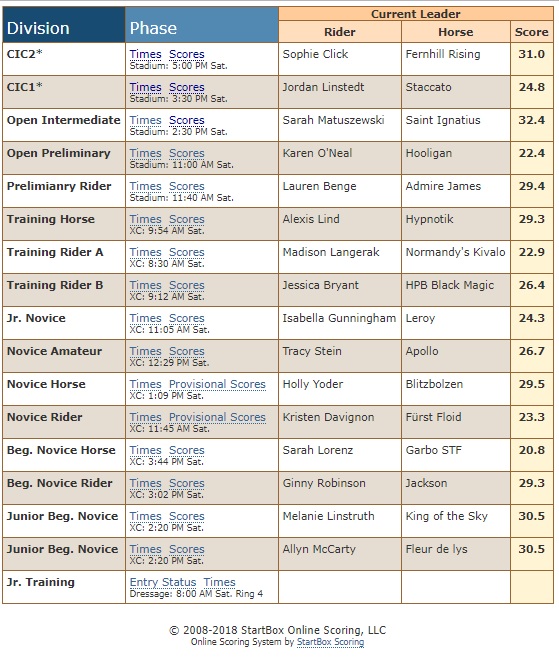 To accommodate as many riders as possible this year at AFHT, Junior Training will run dressage starting at 8 a.m. on Saturday and show jumping starting at 1:15 p.m. on the same day.
You can see and follow the scores on Startbox Scoring here. Review additional show coverage on Aspen Farms Horse Trials Facebook page or our Instagram @AspenFarmsHorseTrials. Share your own pictures, stories, and successes from the show on social media using the hashtags #AFHT and #AspenFarmsHorseTrials.