FOR IMMEDIATE RELEASE
For the second year in a row, Sabrina Glaser and Rembrandt won the $4,000 Tin Men Supply division at Aspen Farms Horse Trials. Sabrina and 10-year-old mix-breed gelding jumped clean and clear over Tremaine Cooper's cross-country course on Saturday, putting distance between the next nearest competitors and taking the lead from Jordan Linstedt who scratched before the start of cross-country.
"He's turned into such an amazing cross-country horse," Sabrina said. "He's actually not a brave horse, but he trusts me so completely. I swear he could do it on his own now."
Despite two rails and some time faults in show jumping, Sabrina and Rembrandt held on for the win ahead of Madeleine Scott and Crosby's Gold in second and Kerry Groot and Borasco in third.
Sabrina said their win was extra special this year because Rembrandt's owner, Patricia Yust, was able to attend and witness his big win. Sabrina and Patricia are currently putting together a syndicate for Rembrandt, and shares are available.
For the third year in a row, Aspen Farms Horse Trials hosted the USEA Area VII Championships. Competitors qualified by placing first through fifth in a qualifying Area VII horse trials.
Leah Breakey and Master Class won the Open Intermediate Championship division, finishing on 40.1. They moved up from second after their show jumping performance on Sunday. Anna Stein and her Connemara-cross gelding, Zaboomafoo, finished second.
Amy Evans took third in the division aboard her own horse, Argentine Gaucho. In addition, Amy won the inaugural Aimee Witherspoon Memorial Award, awarded to the highest placed Amateur competitor in Intermediate Area VII Championships in memory of Area VII eventer Aimee Witherspoon.
Marc Grandia and Campari FFF maintained their overnight lead to win Open Intermediate thanks to a convincing, clear show jumping round.
Full Gallop Eventing also topped the leaderboard in the Open Training Championships, where Erin Grandia and Indio BMW finished on the low score of the weekend–24.3.
Jordan Linstedt and Janine Jaro's gelding, Staccato,, won the Open Preliminary Championships. Kelsey Horn and Sir William took second, and Madelyn Floyd and Clementine finished third.
Final results, including detailed cross-country scoring, are available online at Startbox Scoring, here.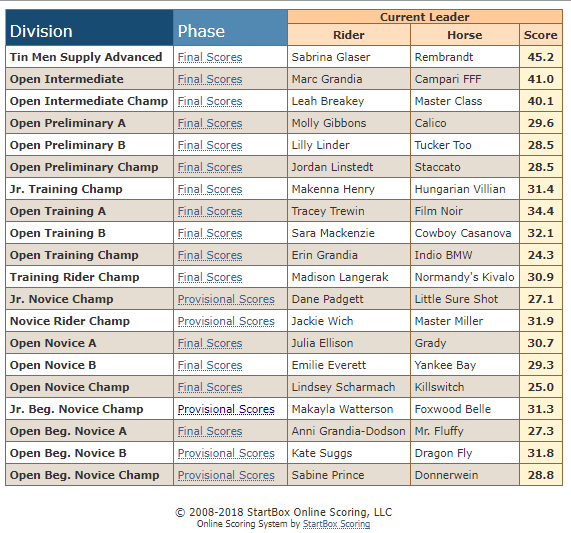 Over $30,000 in cash and prizes was awarded to top finishers this weekend thanks to the supportive sponsors of Aspen Farms and Area VII Championships.
See additional videos, photos, and coverage on Aspen Farms Horse Trials' Facebook Page and our Instagram @AspenFarmsHorseTrials.
* Headline photo featuring Sabrina Glaser and Rembrandt, courtesy of Dancing Petals Photo & Design.