FOR IMMEDIATE RELEASE
The third and final day of Aspen Farms Horse Trials in Yelm, WA delivered sunny weather from start to finish with excellent footing conditions for all courses. Training level through CIC2* contested cross-country and all Zeit Capital Open, Novice, and Beginner Novice divisions contested stadium. Aspen Farms' generous sponsors awarded over $20,000 worth of cash and prizes to top-placed competitors.
Young Rider Anne-Sophie Levesque of Cochrane, AB delivered a double clear cross-country round with her self-made Canadian Sporthorse gelding, Eskapade, to secure the win in their first two-star together. "It was a really positive outcome," said Anne-Sophie. "I am so happy with how well he jumped and how honest and brave he was. We went for time on cross-country, and he proved to me he had it in him to make it. It's been really cool to see how far he's come." They are looking forward to contesting the two-star division at the North American Junior and Young Rider Championships (NAJYRC) in July.
Maris Burns and her own Irish Sporthorse mare, Tullamore, jumped clear and inside the time in both stadium and cross-country to jump significantly up the CIC2* scoreboard from fifteenth after dressage to second overall. Additionally, Maris was the recipient of $500 from Southern California Equestrian Sports (SCES) as the highest placed SCES member in the division.
Sabrina Glaser completed the CIC2* successfully on three horses–Rembrandt, Hypona To Be True, and Bryn Carregwen Serendipity–to finish third, fourth, and seventh respectively.
In the CIC1*, Sara Sellmer of British Columbia and Amy Click's Oldenburg mare, Rubia, finished the weekend as strong as they started, adding just two time penalties on cross-country to win on 41.6–nearly 10 points ahead of the nearest competitor. According to Sara, "Rubia was super. She was really good at the big galloping fences; very adjustable and quick off her feet. She was awesome." The pair is aiming for the one-star at Rebecca Farm in July. Owner Amy Click shared, "It has been a joy watching this partnership develop. We'll see where it goes; we hope it goes very far."
Lillian Thiel and Vatino moved from ninth after dressage to second in the CIC1* thanks to their strong jumping performances. Similarly, Kerry Groot and SuperNova moved from eleventh to third.
Attila Rajnai had a notable weekend, winning both the Open Intermediate aboard his wife Sara Mittleider's horse, Harry Houdini, and also winning the Zeit Capital Open Novice aboard Danger Ranger, an imported horse owned by Misty Payne.
This was Attila's and Harry's second Intermediate together. According to Attila, "the highlight was our show jumping and cross-country. In show jumping he was trying very hard to leave up the rails, and he had a very nice double clear round. In cross-country he was on it and answered every question."
In Preliminary Rider, Jordan Beckingham and Snap Decision II won the division thanks to their double clear show jumping and cross-country rounds. Sara Mittleider and La Paz won the Open Preliminary, finishing on a score of 35.8.
As always, spectators enjoyed following the competitive Zeit Capital Open Training, Novice, and Beginner Novice divisions, which awarded $3,600 in cash prizes. Karen O'Neal and Hooligan, owned by Karen Weeks, finished first in the Zeit Capital Open Training. Rebecca Schmidt and her own Amidala won the Zeit Capital Open Beginner Novice on 21.5, and Attila and Danger Ranger won the Zeit Capital Open Novice on 24.5. During his press interview, Attila shared what many riders expressed throughout the weekend: "I would like to thank all the sponsors and everyone who supports the riders; it's very nice."
Final scores and detailed cross-country results can be viewed online at Startbox Scoring, here.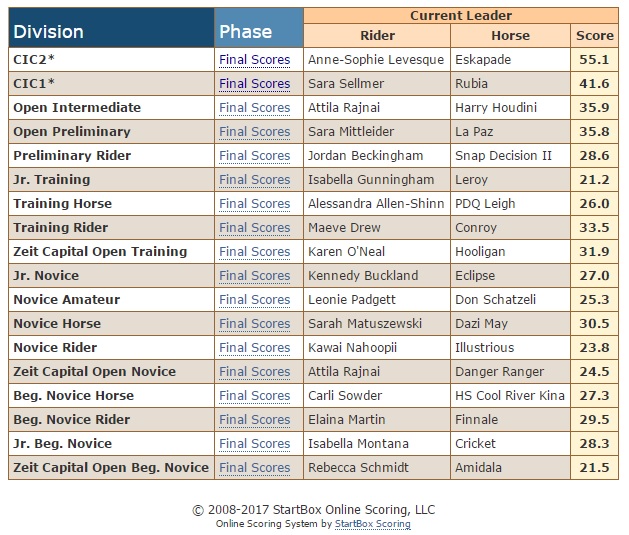 Additional show coverage can be found on the Aspen Farms Horse Trials Facebook page or Instagram @AspenFarmsHorseTrials.
* Photos courtesy Jo Arlow Photography and Lively Manor Photography, as attributed.