FOR IMMEDIATE RELEASE
The final day of Aspen Farms Horse Trials and the USEA Area VII Championships in Yelm, WA delivered sun and mild temperatures as nearly 300 competitors made their final bids to secure top placings and prizes in divisions from Beginner Novice to Advanced.
Sabrina Glaser of Canada and Rembrandt, a Selle Francais gelding owned by Patricia Yust, maintained their overnight lead to win the USEA Adequan Gold Cup hosted by Tin Men Supply. The pair jumped clear in show jumping with just one time fault to finish on a score of 34.7, nearly 20 points ahead of the second place finishers.
"I thought [Rembrandt] was solid and confident right from the get go," Sabrina reflected after her stadium ride. "He was steadier and more relaxed in his dressage test than he has been in the past. He went around cross-country pretty much on autopilot, and he finished strong with a solid effort today. He had his heart in the game the whole weekend."
Sabrina has brought Rembrandt along in his training since she started him under saddle at age three. "This year he feels like he has really figured his job out," she says. "As the season has gone on, he's gotten more and more confident." Looking ahead, the pair have entered their first CIC3* together at Woodside this fall.
For their win in the Adequan Gold Cup, Sabrina and Rembrandt earned $2,000 from Tin Men Supply, a $350 Nunn Finer gift certificate, a Gallops Saddlery leather halter, Fits breeches, an Adequan shirt, a USEA $50 gift certificate, a Deco Pony custom name plate, and a Nupafeed gift card. They also qualified to compete in the Adequan Gold Cup Final at the 2018 American Eventing Championships in Colorado.
Young rider Sophie Click and her Paint gelding, Hot Wheels, completed their first Advanced and secured second place in the Adequan Gold Cup with 53.3. Andrea Nielsen and her Irish gelding, LC O'Shawnisee, finished close behind in third with 53.6.
Maya Black and her off-the-track-Thoroughbred, Mowgli, finished on their dressage score of 27.1 to secure the win in the Area VII Open Intermediate Championships. Maya is no stranger to this title, having won the same title with Doesn't Play Fair in 2013. Sara Sellmer and Rubia, owned by Amy Click, finished second on 31.4, and Kerry Groot and Borasco took third.
There was significant movement in the placings after show jumping in the Open Preliminary Championship division. A single rail dropped overnight leaders Meika Decher and Archie McPhee from first to third. Stephanie Cooper and Sketchy Past jumped clear to secure the win, with Anna Collier and Last Call claiming second.
At all levels the Area VII Championship classes were hotly contested with no margin for errors. Key sponsors provided prizes, ribbons were awarded through tenth, and commemorative plaques were provided to all finishers. The Championship classes also attracted crowds, with spectators showing their support for the Area VII competitors at all levels who qualified to compete for Championship honors.
Tracy Stein and her 20-year-old gelding, Apollo, were one such pair. They won the Novice Rider Championship on their dressage score of 26.5. "He stepped it up to go 400 meters [per minute] cross-country," Tracy shared. "I used to have time faults at Beginner Novice. To be able to finally ride the 400 meters pace, give him a good ride, and finish stadium on top… I have no words; I love him so much."
Of Aspen Farms, Tracy shared, "It's always rider-friendly here. The jumps are rider-friendly. It's challenging, but it feels safe. I've always loved coming here."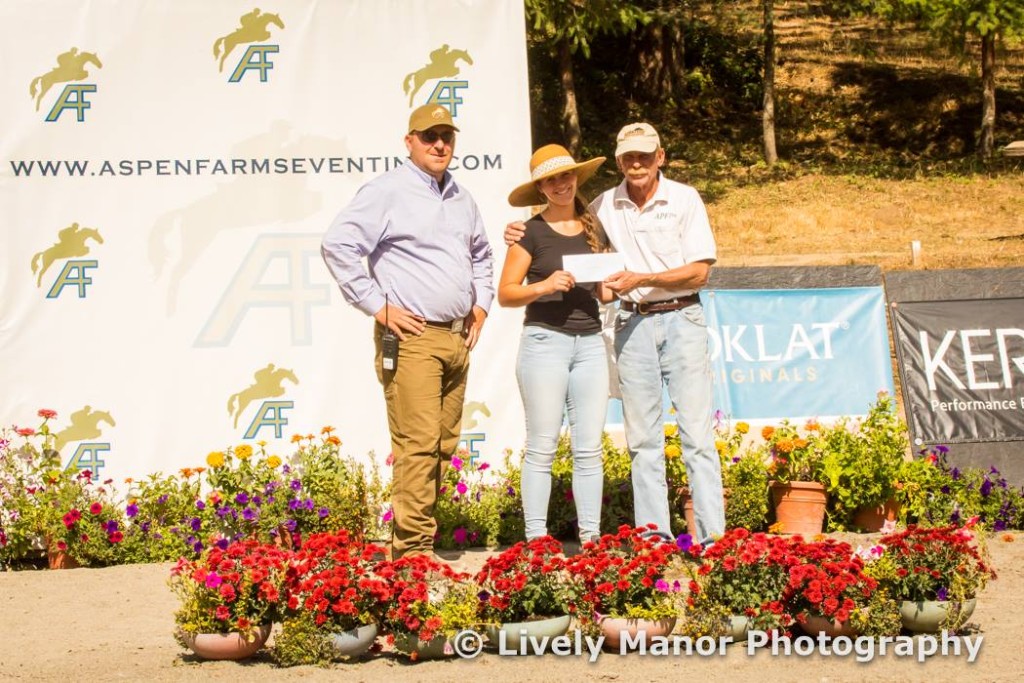 Over $25,000 in cash and prizes was awarded to competitors today thanks to the generous sponsors of Aspen Farms, including long-time supporters Toklat, Gallops Saddlery, Olson's Tack, Kerrits, and many more. Anne-Sophie Levesque of Canada won the $250 sportsmanship award sponsored by Dougie Hannum.
The final results from all divisions are available online at Startbox Scoring, here. More pictures and video from the show can be found on the Aspen Farms Horse Trials Facebook Page or Instagram, and additional media coverage is linked on the Aspen Farms Press Page.
* Photos courtesy of Lively Manor Photography.