FOR IMMEDIATE RELEASE
Hundreds of horses and riders throughout the Pacific Northwest and beyond contested dressage today at Aspen Farms Horse Trials (AFHT) and USEA Area VII Championships in Yelm, WA.
Jordan Linstedt and her Warmblood gelding, Revitavet Capato, are leading the Tin Men Supply Advanced division on a score of 29.8–the only pair to score below 30 in the division. Sandra Donnelly and Belshazzar are sitting in second on 33.3, and Sabrina Glaser and Rembrandt of Canada–last year's AFHT Advanced winners–are in third on 35.2.
After her rides today, Jordan Linstedt also led this year's educational Celebrity Course Walk sponsored by Area VII Adult Riders, sharing her insight on cross-country strategy with the crowd at the Toklats Water Complex.
Young Rider Harper Click leads the Open Intermediate after dressage aboard her Warmblood mare, Rubia, on a score of 30.
Anna Stein and her Connemara cross gelding, Zaboomafoo, are leading the Intermediate Championships on 34.3. In the Open Preliminary Championships, Kelsey Horn and Sir William secured the top spot overnight in a competitive field of 24 starters.
The lowest score of all divisions–24.3–was secured by Erin Grandia and Indio BMW. They currently lead the Open Training Championship division.
This year the Training, Novice, and Beginner Novice Junior Championship divisions include cash prizes sponsored by Tack Room Too. The overnight leaders in these divisions are Reese Blinks and Calamari, Dane Padgett and Little Sure Shot, Rachel Russell and Sorrento and Makayla Watterson and Foxwood Belle (tied), respectively.
Overnight leaders who ride cross-country on Saturday will be wearing the orange leader jerseys provided by Kerrits Equestrian Apparel.
The scores are close throughout all divisions, leaving little margin for error in the jumping phases on Saturday and Sunday as competitors aim for the top spots and their share of over $30,000 in cash and prizes, provided by Aspen Farms Horse Trials sponsors such as Gallops Saddlery, Olson's Tack, Kerrits, Tin Men Supply, and many others.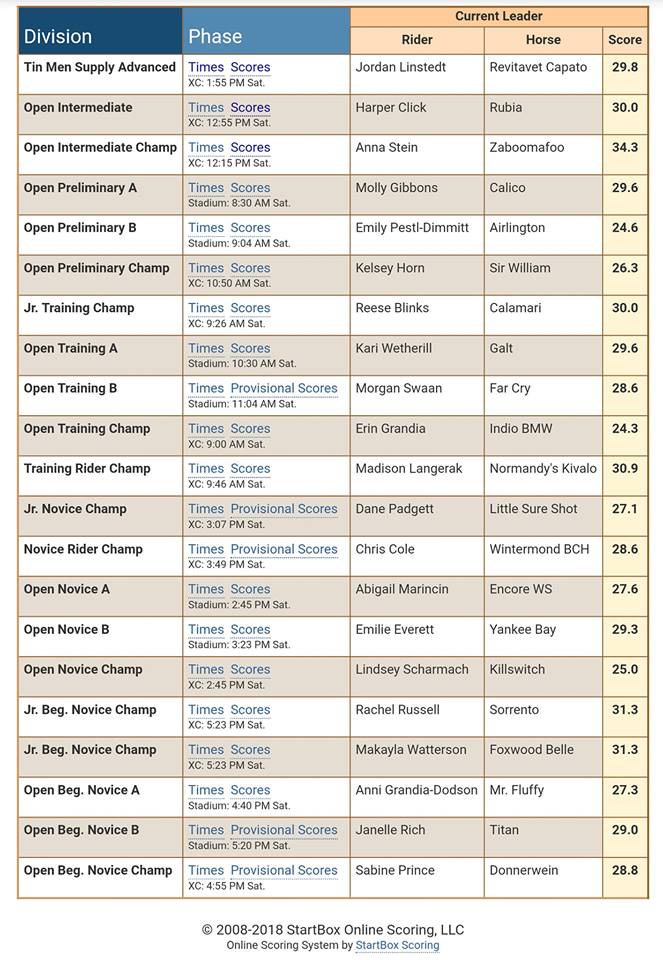 Scores are available online here at Startbox Scoring and will be updated as they become available throughout the weekend. Be sure to follow show coverage on Aspen Farms Horse Trials Facebook page and Instagram @AspenFarmsHorseTrials. Share your pictures and stories from the show using hashtags #AreaVIIChamps and #AFHT.