FOR IMMEDIATE RELEASE
Today Aspen Farms Horse Trials welcomed nearly 300 horses and riders from throughout the Pacific Northwest, California, and Canada for the start of their tenth anniversary horse trials in Yelm, WA. The competition includes ten Area VII Championship classes from Beginner Novice through Intermediate as well as the Adequan Gold Cup $4,000 Tin Men Supply Advanced division–the only Advanced level horse trials in Washington state.
At the conclusion of dressage, Emily Pestl-Dimmitt and Airlington, a Bavarian gelding owned by Michele Pestl, are leading the Adequan Gold Cup and Tin Men Supply Advanced. "We've been working to get him more fit this summer so he's feeling like he has a bit more energy on the flat and is more rideable lately," Emily shared. "We had several bobbles here and there today and there were several more points to be had, but he was overall very obedient in his usual consistent way. I'm very happy with his performance."
Emily is also riding three lower level horses this weekend and is leading the Open Beginner Novice Championship division after dressage aboard Floid, owned by Kristen Davignon.
Canadian competitors are also making a strong impression in the Tin Men Supply Advanced, sitting in second and third overnight. Sabrina Glaser and Rembrandt scored 33.7, and young rider Anne-Sophie Levesque and Eskapade are close behind with 34 respectively. The field of eight will take on Tremaine Cooper's cross-country course starting at 1:30 p.m. on Saturday.
Sara Sellmer and Rubia, a Warmblood mare owned by Amy Click, scored 25.8 in the Intermediate Championships to secure the overnight lead. This promising pair won the CIC1* at the June Aspen Farms Horse Trials and finished second in the CCI1* at Rebecca Farm in July in a field of 43 starters. Maya Black and her off-the-track-Thoroughbred, Mowglie, are close behind on 27.5, and Sarah Haff and Defensive Player earned 31 to secure third heading into cross-country tomorrow.
In Open Intermediate, Marlies Kerkhoven and Noval Approach from British Columbia have a comfortable lead with a score of 30.4. Kathryn Nichwander and 360 and Chelan Kozak and Heirloom are tied for second on 36.7.
Meika Decher is the overnight leader in the Preliminary Championships aboard her homebred 8-year-old gelding, Archie McPhee. Regarding their dressage performance Meika says, "It was a good test. He finally gave me the submission we sometimes have been lacking. Today he was completely on the aids." Looking ahead to the cross-country course, she said, "it's definitely a Championship-level course. You can say to yourself 'this is a hard course,' or you can say to yourself, 'this is the perfect course for moving up to Intermediate!' I'm loving this course as a step-up course."
Also in Preliminary Championships, Jordan Beckingham and Snap Decision II, owned by Laurie Allred, scored 30.2 for second place overnight. Amy Evans and Argentine Gaucho, Stephanie Cooper and Sketchy Past, and Emilie Everett and Ilo Lorel are in a three-way tie for third on 30.7.
The dressage placings at all levels left little room for riders to make errors; competitors will be looking for clear jumping rounds tomorrow to better their chances of earning top placings and excellent prizes on Sunday from Aspen Farms sponsors.
Show jumping begins at 8:15 a.m. in the upper sand ring on Saturday and cross-country starts at 9 a.m. with the Training Championship division. For additional show coverage including pictures and video, follow Aspen Farms on Facebook or Instagram. Live results can be seen online at Starbox Scoring, here.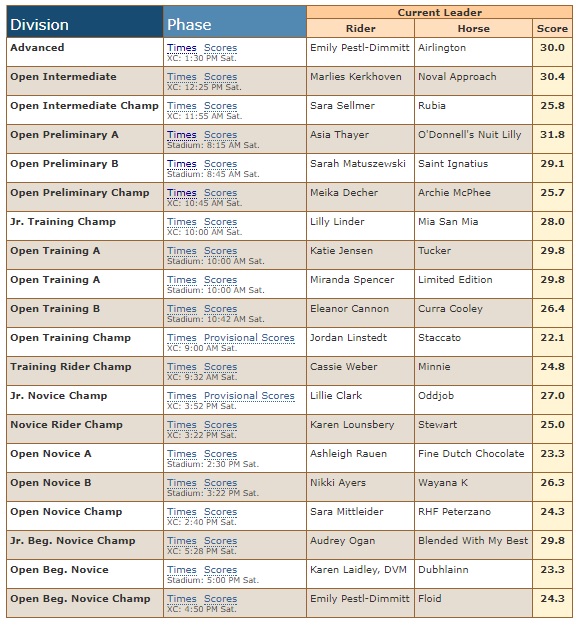 * Photos courtesy of Lively Manor Photography